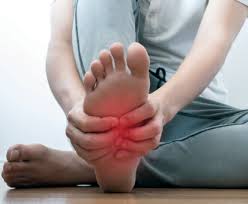 Orthotics – Why see an expert?
Do you have foot pain? 
Have you considered custom foot orthotics?
Where should you go for help?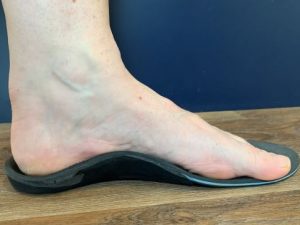 Foot orthotics are available everywhere these days – I've noticed them in pharmacies, sporting goods stores and online. However, orthotics that are improperly fitted or don't have the appropriate features for your foot condition will not help you and may even worsen your pain or decrease your mobility. I know – I've benefited from them for over 25 years!
To ensure you get the best care possible for your feet I recommend you schedule a visit with a Canadian Certified Pedorthist like our own Jacob Simpson. As a healthcare professional he is trained in designing, fitting, and modifying custom-made foot orthotics.
After completing a university degree in health sciences, Jacob completed rigorous post graduate training and a certification exam. This earned him the right to identify himself with a C. Ped (C) designation after his name. A good rule of thumb when you are seeking advice about your feet and orthotics is to look for the C. Ped (C). It's a guarantee it wan't a weekend course!
Jacob assists his clients in living healthy, active lives by helping them achieve and maintain proper foot health. To do this he performs a wide range of services including: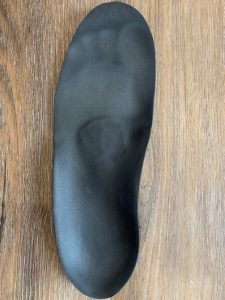 Assessing client's feet and lower legs using range of motion, strength and functional tests
Performing a gait assessment (evaluating how you walk or run)
Educating clients about their foot or lower limb conditions and recommending a personalized treatment plan
Providing custom-made foot orthotics or over-the-counter devices
Fitting/recommending client's with appropriate footwear for their foot type and problems
Discover the benefits a foot expert like Jacob can bring your life. If you are experiencing pain in your lower limbs or feet, or have decreased mobility, seek the best advice available. Ask your family physician to refer you to a C. Ped (C).
Jacob Simpson is a Canadian Certified Pedorthist and owner of Simpson Orthotics and Kinetics with clinics in Chatham and Kingsville. For an appointment with Jacob at Erie Shores Rehabilitation in Kingsville call 519-733-4008. Your feet will thank you – I know mine did!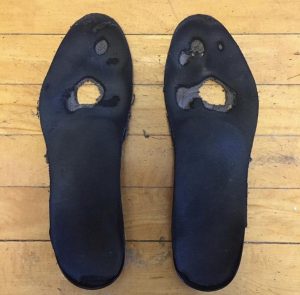 And if your current orthotics look like this….you should also contact Jacob!!